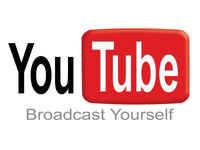 YouTube is a video sharing website where users can upload, view and share video clips. YouTube was created in mid-February 2005 by three former PayPal employees. The San Bruno-based service uses Adobe Flash technology to display a wide variety of video content, including movie clips, TV clips and music videos, as well as amateur content such as videoblogging and short original videos. In October 2006, Google Inc. announced that it had reached a deal to acquire the company for US$1.65 billion in Google stock. The deal closed on November 13, 2006.
Unregistered users can watch most videos on the site, while registered users are permitted to upload an unlimited number of videos. Some videos are available only to users of age 18 or older (e.g. videos containing potentially offensive content). The uploading of pornography or videos containing nudity is prohibited. Related videos, determined by title and tags, appear onscreen to the right of a given video. In YouTube's second year, functions were added to enhance user ability to post video 'responses' and subscribe to content feeds.
Few statistics are publicly available regarding the number of videos on YouTube. However, in July 2006, the company revealed that more than 100 million videos were being watched every day, and 2.5 billion videos were watched in June 2006. 50,000 videos were being added per day in May 2006, and this increased to 65,000 by July.
Youtube is the primary method through which members of Area of Improvement can place videos of them performing on AOI's website. (See Adding videos to AOI)